Compact Mirror
SHOP
> Photo Gifts > Personalised Gifts > Photo Gifts Details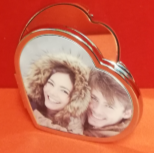 Silver Metal Finish mirror compacts in various shapes. The white metal sublimation photo plate is bonded on to an appropriate item, to give a long-lasting High Definition image of your choice. This can simply be a favourite photo from your collection of prints or digital/mobile phone images emailed or transferred in the shop.
Optionally, a message or other type of image can be used as well or instead of a photo.
The high definition, full colour images still give a spectacular final gift that is handy to slip in a pocket or handbag. A durable, practical gift for that special someone.
Click on the image to the right to see a gallery of pictures of the products available.
Mirror Compact
Photo Gifts
Supplied in 4 shapes, round, heart, square and ornate square.

Full colour image or design of your choice.


Immediate availability